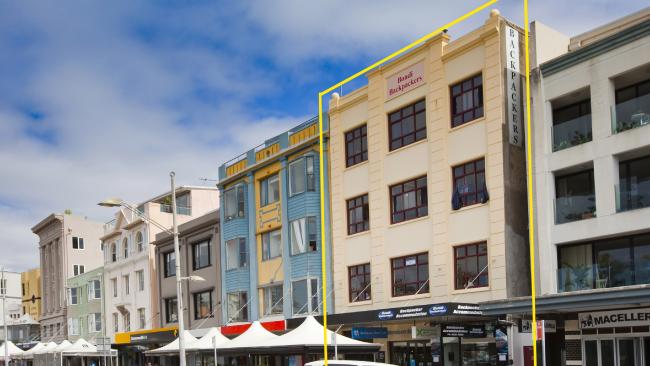 The iconic Bondi Backpackers hostel on Campbell Pde, Bondi has been sold for $18m to Wake Up! hostel
Real Estate
- Monday, 21 November 2016
ONE of Sydney's most famous backpackers has been snapped up for more than $18 million.
The Bondi Backpackers on Campbell Pde has sold for more than $18m- after originally passing in at auction for $17.8m.
The iconic property has been bought by the Millet family- the clan behind the international Wake Up! hostel chain.
The Campbell Pde property just footsteps from the beach has 52 rooms accommodating a total of 138 guests and includes a range of configurations from single rooms to six-person dormitories.
Additional income also comes from the retail tenancies that front onto Campbell Pde; the Bavarian Bier Cafe and Backpacker World Travel.
The building has a total of 52 rooms housing 138 guests.
Ray White Double Bay's Craig Pontey said the property's location was just one of a handful of urban locations that are instantly recognised by international visitors.
The building sits on 448.9sq m with a 12.23m frontage to Campbell Pde.
The building sits on almost 450sq m of land.
It brings in a total income of $1,364,989 per annum.
"The total income from the property is currently in the order of $1,364,989 per annum, and as an ideal owner-operator business, I believe that there's considerable potential to increase income," Mr Pontey said.
There are views of the beach from many rooms.
There are on-site facilities as well as ground floor retail.
"There have been a number of recent sales in the immediate area, including the $19.12 million result for 124 Campbell Pde, and this level of interest is further enhanced by the amount of development at Bondi Beach and that includes the $38 million major upgrading of Bondi Pavilion by Waverley Council."